Successful hospice providers have one thing in common: they're good at lowering their overall pharmacy costs. Alternatively, there's a misconception in hospice care that having contracted low-cost medications equals the lowest pharmacy costs—technically accurate, but not the whole story. Ordering cheaper drugs can lower a hospice's overall pharmacy cost by 5–10%, but there are several factors hospices can adjust that have an even more significant impact (in the range of a 25–50% reduction) on their overall pharmacy cost. BetterRX Hospice Clinical Expert Rebecca Christensen, PharmD, has identified five key cost-saving factors throughout her 25+ years of hospice utilization experience to save hospices millions of dollars through full medication optimization.
Number of medications filled per patient
First of all, common sense tells us that more medications ordered per patient will increase the overall pharmacy cost quite a bit, but it doesn't just stop there. More medication orders mean more delivery costs, too. Not to mention the additional time nurses must dedicate to ordering and tracking medication deliveries, leading to more after-hours work, overtime costs, and less time available to give quality care to their patients.
Number of unnecessary medications
The second thing that can significantly impact overall pharmacy costs is the number of unnecessary medications ordered. But what differentiates a necessary medication from an unnecessary one? Simply put, unnecessary medications don't improve the patient's quality of life. They do the opposite, from providing little to no medical benefit to triggering novel, negative symptoms in the patient (such as cholesterol-lowering medications or vitamins and herbal supplements). And the consequences of ordering and administering unnecessary medications can come at an even steeper price. In some instances, adverse interactions in patients brought on by unnecessary medications can cause a domino effect, requiring treatment of additional symptoms with more medications. (many medications for treating Parkinson's or dementia). These inappropriate medications often lead to additional costs for the hospice and a higher PPD (Per Patient Day cost).
Number of ineffective medications
Number three on the pharmacy costs list is the number of ordered ineffective medications. Ineffective medications have no real therapeutic benefit for a patient and are often ordered to assuage loved ones. Some common examples of ineffective medications for hospice patients include:
Inhalers: While inhalers can help alleviate respiratory symptoms, patients who no longer have the ability to inhale cannot get any meaningful use from them. In the end, hospices can end up paying thousands for a medication that does not benefit the patient.
Antibiotics: Not effective for symptoms when a person is near the end of life.
Antivirals: medications covering viral infections such as colds and pneumonia are not effective
Although family members have the best intentions in mind when advocating for administering medications they believe will help their family members in their final stage of life, not all medications are appropriate or effective for every patient. Moreover, these ineffective medications are often the culprit behind high overall pharmacy costs.
Expensive medications when less expensive alternatives are available.
Most PBMS will tell you that providing cheaper medications is how they reduce your overall pharmacy cost. As previously stated, while this can impact your OPC 5-10%, it has less impact than focusing on the first three factors. You don't have to skimp on the cost of all medications if you concentrate on drivers 1-3 carefully. Cheaper drugs are not better in every case. The downside to cheaper medications is that they often have to be mail ordered which means longer delivery times.
Poor clinical pharmacy management – Not having a real-time dashboard of costs
The less you know, the more you pay in overall pharmacy costs. The last factor that significantly impacts pharmacy cost is simply not having insights into your team's medication ordering habits. The lack of a proper data-driven real-time dashboard can mean getting hit by a large pharmacy bill unexpectedly at the end of the month. This can also be due to not having access to a clinical expert that can provide intelligent and timely responses to clinical drug questions, so you can't monitor and control factors 1-4. It means more sporadic orders and extra delivery and rush costs from the pharmacy.
The solution: How to better manage and indeed reduce your overall pharmacy costs by up to 50%
Choose a pharmacy partner with free clinical consultations with a proven track record of optimizing your hospice's medication utilization.

Track your utilization KPIs (Key Performance Indicators – i.e., average MPP (Medications Per Patient, CPM (Cost Per Medication), Unnecessary Medications Per Month, Ineffective Medications Per Month, and MDC (Monthly Delivery Charges)

Set Medication Utilization goals and effectively train nurses to improve ordering habits to meet goals.
Conclusion
In order of high to low impact, these are the five drivers your hospice clinical director can focus on to keep overall pharmacy costs low.
Medication cost reduction in the hospice setting is top of mind for hospice executives as it is one of the two largest line items in every hospice P&L: i.e., labor costs and medication costs.
There's a misconception in hospice care that getting nurses to order lower-cost medications equals an overall lower pharmacy cost.
At BetterRX, we have a proven track record of effectively optimizing hospice providers' overall pharmacy costs through the following methods. Below is a real word example of a hospice with a 100-patient census just 60 days from switching to BetterRX from a traditional PBM.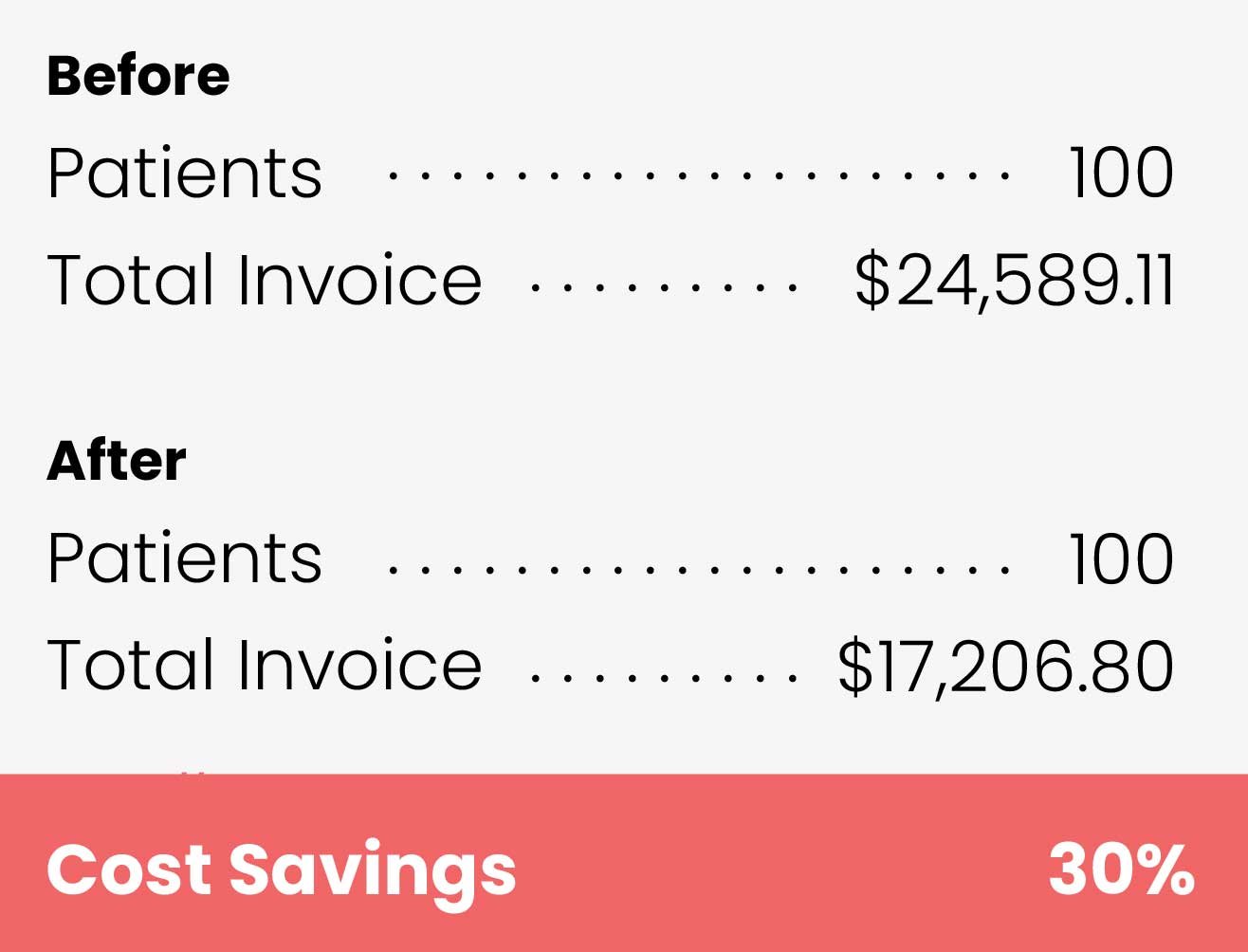 Don't give up.
Reducing overall pharmacy can be tricky and extra work for executive and clinical management. However, it will significantly impact the experience of your patients and nurses. With the continued growth of the hospice industry, those who succeed in optimizing their cost will see exponential success and stability as the hospice industry continues to expand. Call us today for a free consultation utilization analysis for your hospice ordering habits and overall pharmacy cost.