On this month's Team Member Monday, we are spotlighting Rebecca Christensen, Director of Clinical Services on our PharmD team. Rebecca has been with BetterRX for 12 years and is a vital part of the team. We appreciate her so much and know that she'll be able to help you with any medication questions you may have. Read on to learn more about her!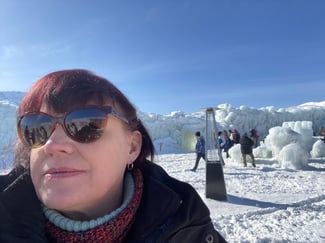 1. How long have you been with BetterRX, and what do you do for the team?
I've been with BetterRX for 12 years. I started as a pharmacist for our Pharmacy in Boise, Idaho, and I am now the Director of Clinical Services. I work with nurses and prescribers to improve the quality of life for our hospice patients.

2. Can you tell us about yourself outside of work (family, pets, etc.)?
I am kept very busy! I have 3 kids (ages ranging from 16-23 years old). All their friends like to stay at our house. We also have furry companions (2 dogs and 2 cats). I enjoy cooking and trying new recipes and cuisines. My current experiment is with Indian and Japanese foods. My favorite way to relax at the end of the day is to watch medical and crime dramas while crocheting scarves that I donate to local shelters.

3. What is your favorite quote?
Albert Einstein is a hero of mine, and he has two quotes that I love,
"If you can't explain it simply, you don't understand it well enough."
"Strive not to be a success, but rather to be of value."

4. What is the best advice you have ever received?
The best advice I ever received was from my grandmother. She said, "You have a choice to either be miserable focusing on your struggles or to be happy looking for the good things in your life. Life is much better looking on the bright side".

5. What motivates/inspires you?
I love to help others. It can be something such as providing a safe space for kids to hang out or helping to relieve my patients' pain. I find great joy and fulfillment in positively impacting someone's life.
6. Why do you love working for BetterRX?
I love being at the forefront of improving hospice care. It brings me joy.